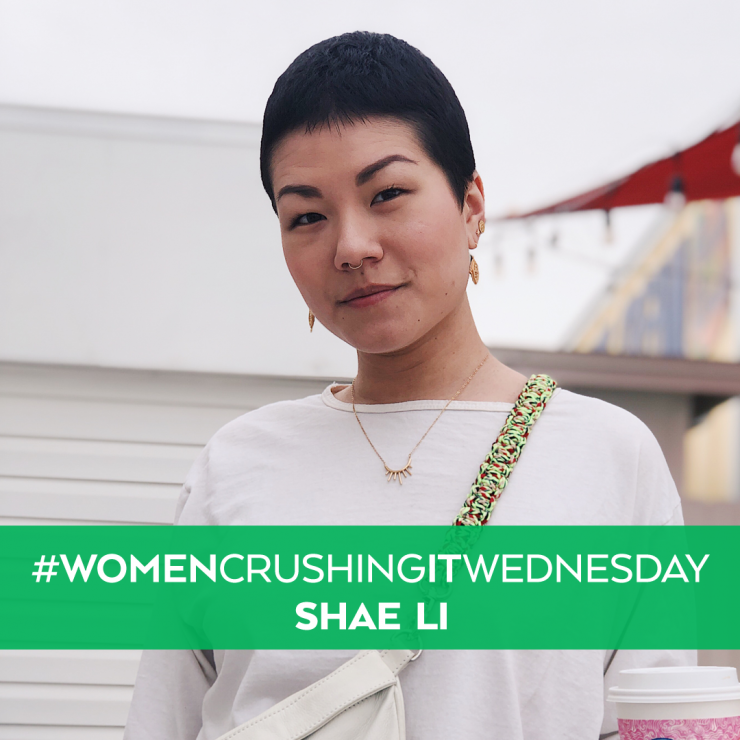 It is with great pleasure that we spotlight our final honoree of InvestEd's #WomenCrushingItWednesday segement for National Women's History Month, Shae Li. If you haven't had the pleasure of meeting Shae Li or follow her on social media, we hope you'll consider it after learning more about this awesome woman and getting a glimpse into her positive light. Shae Li is a life and style blogger, recent cancer survivor, medical cannabis advocate and self-proclaimed foodie, residing in the Baltimore/DMV area. When she isn't blogging, snapping pics for Insta or trying a new restaurant, she manages a retail store for a prominent women's fashion brand. She was recently featured in Baltimore Magazine's April issue, as well as Maryjane of Maryland's issue on Women, Cannabis & Cancer, for her experiences using medical cannabis while undergoing chemotherapy in Summer/Winter 2018. She loves social media because it allows her to share her personal experiences with her community and she hopes she can inspire others to be their authentic selves no matter what kind of lemons life gave them.
Take a few minutes to read a little about Shae Li's Journey and her outlook on things like tackling finances in today's world, her biggest triumph to date, staying positive in an Instagram environment and how she is making her own history as a woman "crushing it".
Shae Li, what does it mean to be a woman "crushing it"?
This is a loaded question because everyone's idea of "crushing it" looks different. It's also so easy to feel like you aren't "crushing it" when you try to compare yourself to those that are not you. That being said, if you are a woman, you are probably crushing it. Just by being an empowered, driven and active woman - you are crushing it. You don't have to have accolades or have it all figured out to still be a boss. I set my own standards for happiness and I crush those.
Where do you draw your crushing it strength from?


When you beat cancer at 28, it's pretty easy to drawn your "crushing it" strength from inside because you know you can crush pretty much anything after cancer. Haha. But this is obviously an experience most people don't have (nor do I hope they ever have to personally experience). So I'll say I draw strength from myself but also from the support I receive from family, friends and my social media community. Not just from the words of encouragement or the love they give but also by watching how they navigate life, finances, personal struggles and successes. I like to see how they "crush it" and put some of their best practices into play in my life.

What's the best piece of financial advice you have received?
My aunt and uncle are both economists so I'll share the best pieces of advice they've given me.
1. Credit card debt is the worst place to have debt so pay that ish off as fast as you can.
2. Start saving/investing as early as you can because nothing can make up for the time your money could be growing. If your job offers 401k matching, max it out. If your job offers stock options, take advantage. You may feel like you need that extra 3%, 6%, 10% now, but you could use that to buy a new coffee table now or you could let it grow and use it to help you retire later.

What has been your biggest personal triumph?
Well, not to keep bringing the same point up, but beating lymphoma and being alive is definitely my biggest personal triumph to date. Lol. Besides that, I would say finding the confidence and willpower to be my most unapologetic self. Instagram makes it look easy but it takes a lot of strength and determination to stop comparing your life to others, to find personal happiness and independence and to live according to your own standard vs someone else's.

How have your financial habits supported you in creating the life you want?
Circling back to saving and investing young, I started putting money away into my 401k and stock options when I was 21. I definitely did not take full advantage of the programs (hence my earlier advice) but I did utilize them. It was comforting to know I had this cushion I could use to avoid medical bill debt but also to see how much my money has grown over the years. What was worth $3k five or six years ago is now worth $10k and I didn't have to do anything but let it grow. It makes me want to save more and invest more. I'm not living the exact life I want but I'm trying to set myself up to be able to.
In your opinion, how important is financial literacy?

So important! And I'll admit, I'm not even the most financially literate. Thank goddess for the internet, right? I read books - currently working my way through "Financially Fearless" by Alexa Von Tobel. It's no Harry Potter so it's a slow go for me but I have been taking what I read to heart. For the things I don't understand (or don't want to invest my time and energy learning) I have a financial advisor to help me make smart investments and decisions.
What would you like your personal legacy to be?
Oh god, my personal legacy? I don't know if I've gotten that far yet. I'm just trying to make it to the next day. But I guess I would like to see myself healthy and happy, able to be financially secure enough to retire at 65 and if I end up having nieces and nephews, to be able to help put them through college. I'd like people to remember me as fierce, fabulous, strong-willed and independent.
Just For Fun

What feelings are conjured up when you hear the word "money"?
The song Money by Cardi B and my friend Chyno aka @theboywiththebluebeard and I screaming it down the streets of DC.
What would you do in life if money was no object?
I'd buy a few homes, travel the world, eat a lot of really fancy food, hire a personal trainer so I could keep eating said fancy food, take my parents and friends on some vacations, pay off my brother's med school loans and build myself a REALLY BIG closet!
What's your best/smartest purchase ever and your most regretted purchase ever?
Best purchase? That's a toss-up between my memory foam mattress topper and my chair hammock. Most regretted purchase is a $40 butt tattoo. You get what you pay for y'all.
Loading Conversation