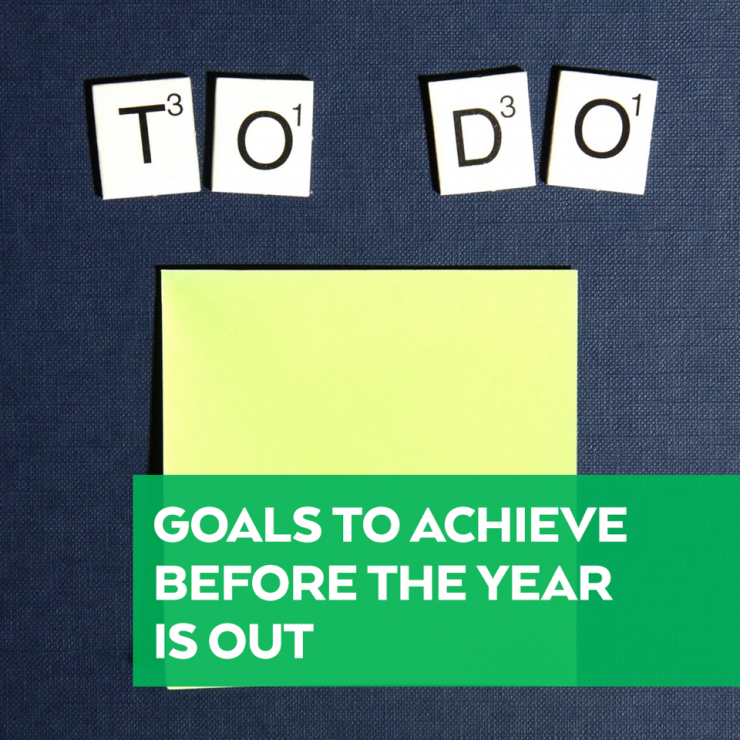 Before I started working in with industry, the words goal and financial education never rang all that important for me. Why do we need them? I thought all that was important was to invest just to make money! Thankfully it didn't take me long at all to understand how important is to have goals and to stick with them. With goals, it is easier to stick with savings and/or spending behavior. As we all know, goals can be long term like retirement planning and education for kids. Or it can be short term like buying a house in the next 5 years, traveling or buying a wedding ring. But to get and keep finances on track now, let's consider some goals that we need to achieve before the new year starts knocking. Let's run through some important ones.
Lower Your Debts
It is a great feeling and very financially healthy to start the new year debt free. With getting rid of debt, we'll focus on short term debt that we have accumulated from everyday expenses, especially the high interest type of debt like credit cards or personal loans. To tackle your debt, you must first make it your primary goal. It comes down to having a specific and realistic goal and then strongly sticking with it. For credit cards, break down the amount of debt by the number of weeks left and start paying that down without adding more expenses to that credit card. Instead use your debit card or cash. Continue through the new year as needed. If you have multiple credit cards worth of debt, focus on paying down the debt of the card with the highest interest rate first, also known as the Avalanche method. It is also very important also to realize how much interest you've been paying a year. That realization should help you stay the course when you need to adjust those fun desires and expenses until the debt is paid down and eliminated.
Max Out Your IRA
It is a great way to plan ahead for a healthy retirement and also to get a tax cut if you have traditional IRA. If you haven't been contributing to your IRA throughout the year and taking advantage of dollar cost averaging, you still have time to make end of year contributions. You'll more than likely have to pay a larger sum all at once, which can hurt when balancing monthly expenses and costs associated with the holiday, but you can contribute as much as is comfortable. Consult with your advisor for more advice.
Maximize Your 529 Plan
If you are a Maryland resident and you have a 529 college saving plan for your kids, yourself or someone you love, don't forget that you can deduct up to $2500 of 529 plan contributions a year from your taxes at the state level. So, maxing that out up that the deduction amount can a be a smart move to increase your tax efficiency. Keep in mind that that is per account holder or contributor. That means that if you have 2 accounts and you contribute on both of them, the deduction is $5000. You can have multiple accounts for different beneficiaries. The same goes with this as for the IRA contributions. If you've been making contributions consistently, you're in good standing for maxing out, but if not, contribute as much as you can to get the tax break next year.
Smaller Goals to Address
1. Try focusing on boosting your credit score as part of your goals. A good credit score will allow you to apply for the credit cards that will offer you a free trial for the coming year. 2. Prepare in advance for tax season. Start putting all the documents you need for the tax filing season, especially if your situation is more complicated than just working with a W2 form. Check your tax return status with online tax calculator so we have an idea if you owe or getting money back. 3. Bone up on your budgeting skills. Come up with a budget plan for the next year if you didn't follow one this year or a better budget if the one you had didn't give you the results you wanted. There is always room for improvement. 4. Talk to a professional. Schedule a check in meeting with your financial advisor to double check that you've addressed all your financial concerns for the year and will have a clean slate for 2021.
It's been a tough year, but we've handled it as best we can. Hang in there!
Sincerely,
Lead Advisor, InvestEd.

Loading Conversation