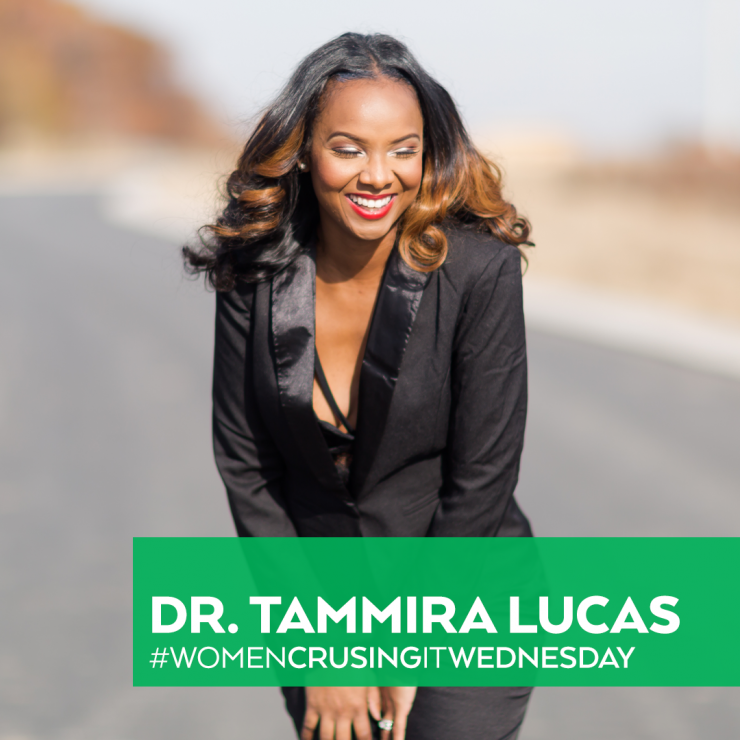 It's National Women's History Month and to celebrate, we found it fitting to highlight one phenomenal woman each Wednesday of this month for our Women Crushing It Wednesday series. The four women selected are crushing it in their respective fields and making some history of their own. First up we have chosen to lend the spotlight to Dr. Tammira Lucas. Read about her accomplishments and take a look at our mini interview for how she defines a woman crushing it and what makes her a success.

Dr. Tammira Lucas is a Mompreneur who is quickly emerging as a trailblazer among professionals and a powerful voice for women teaching them Business, Balance and Babies. Dr. Tammira is the CEO of The Business Dr. Consulting Firm, CO-Founder of Moms As Entrepreneurs, Author, Speaker, Philanthropist, and Professor.
Dr. Tammira has been featured on Forbes Top 10 Entrepreneurial Websites for Women, 10 Best Career Sites for Women, The BOSS Network, Jet Magazine and was the recipient of the 2015 Small Business Innovator by Baltimore City Chamber of Commerce. As a mom, wife, and entrepreneur, Dr. Tammira loves to help women/ moms jump hurdles to success while learning the art of balance, business and babies. Dr. Tammira has also been recognized by 92Q as one of 2014 Baltimore's Top 30 Under 30 and Baltimore's Fab list.

Dr. Tammira realized early in life that helping others launch and grow their business was her passion. After obtaining two business degrees in honor, running her first successful small business and assisting many entrepreneurs in launching and expanding theirs, she formed The Business Dr. Aptly named since recently earning her doctorate degree in Business Administration. The mission of The Business Dr. is to provide strategic marketing solutions to help business owners turn their challenges into profitable solutions.

Dr. Tammira Lucas has over 12 years in the business industry. She has worked with businesses as small as your local corner store or online boutique to some of the best colleges and universities helping them all to create solid profitable business models and implement strategic marketing strategies.


1. What's it mean to be a woman crushing it?
A woman crushing it means a woman that has tenacity in her journey of success. She doesn't have to be an entrepreneur but she can be a woman that is raising the bar in her respective career.
2. What has been the best piece of advice, financial and/or other, that has stuck with you and helped mold your success?
Financially the best advice I received was to always know your number (in anything you do). I break numbers down quickly to make sure it makes sense for whatever is happening.
3. From where do you draw your "Crushing it" strength?
I think I draw my "crushing it" strength from a few places. 1. Being a girl growing up in Baltimore city in an impoverished community and being told that you have limits on what you can and cannot do. 2. Being a mom. When I became a mom, I became superwoman. I wanted to be a great role model for my child and show her that there are no limits to what you can achieve.
4. How has your own financial literacy influenced your business?
Financial literacy has definitely influenced by business. If I didn't understand the significance of money, credit, savings and investing I don't think I would have ever been able to start a business.
5. What do you want your legacy to be?
I want my legacy to be the Dr. mom from Baltimore City who failed college the first time but broke down barriers to help individuals who are living in poverty (especially moms) learn and understand finances that will ultimately help them start, grow and scale businesses all over the world!
6. For those that say you can't accomplish something because of things like your age, gender, education level, being a parent, or not being good enough, what would you say to them?
I would tell them they are living under a rock because we live in a world where anything is possible. No one should put limits on what others can do. My quote in life is that the sky is not the limit it is just the beginning!
Loading Conversation