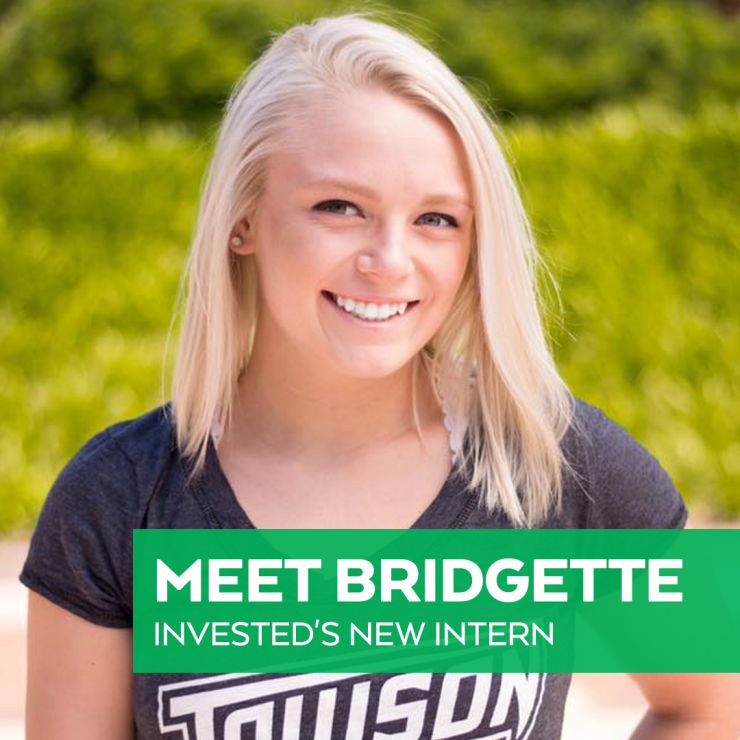 InvestEd has the pleasure of bringing on a new intern for the spring and we are glad to introduce Bridgette Mauer to the team. Bridgette is a junior at Towson University currently majoring in Business Administration with a concentration in Marketing and minoring in Electronic Film and Media. Bridgette, who is 20, but will be celebrating her 21st birthday in March, is a hometown girl residing from Calvert County, MD. Having grown up next to the Chesapeake Bay, she feels like a Marylander through and through. She looks forward to establishing the fundamentals of a prosperous career during her time with us. Let's get to know a little more about Bridgette.
1.What will you be doing in your role with InvestEd?
I will be creating video content for InvestEd's social media pages along with assisting Joy, the marketing coordinator, with any tasks/duties she needs extra help with on company social media pages. I am excited to learn about the marketing strategies that InvestEd implements with their social media content. I am here to not only build my marketing/video portfolio but also to gain financial knowledge that I will be able to take with me into the real world after college.
2.What are you most excited to share with the InvestEd social media community?
I am looking forward to sharing the hard work that goes into making InvestEd great. Not only am I going to be posting about the things InvestEd does for clients/the community, but I'll also share new financial knowledge that I've learned from this job which may beneficial to others who may not know this information either. Content like financial literacy facts and terms are sure to be things that I'll share. The people who work at InvestEd are passionate about their jobs and I am excited to be able to convey this to the community through behind the scenes footage of InvestEd, which is sure to be fun. It'll be a pleasure to help further promote InvestEd's brand image and promote their financial services as I learn more along the way.
3.What's something people don't know about you?
Some people don't know that I am an only child. The closest thing I have to a sister is my very best friend, Helene, who lives in Arizona. I go to visit her once every year in Tempe, Arizona and would like to move there eventually. Another fun fact about me is that I was a gymnastics instructor for a while because growing up I did gymnastics for almost 8 years.
4.What are your interests outside of work?
Outside of work, my interests are extensively around fitness. I'd actually like to pursue a side career in the fitness industry. In my downtime, you can find me in the gym lifting weights, at home cooking healthy meals, or somewhere watching fitness YouTube videos to keep up with trends in the weightlifting world. I enjoy it so much that I've created my own fitness YouTube channel that I make workout videos/vlogs for in my spare time.
5.What's your ultimate career goal?
My ultimate career goal is to become a social media marketing coordinator/director at a large film corporation in California. I would like to work in the film industry and utilize my marketing skills. Using social media to educate consumers about the behind-the-scenes business aspect of making films, TV shows, etc. would be my ultimate goal.
6.What's your favorite quote:
My favorite quote is from David Bowie which says, "I don't know where I'm going from here, but I promise it won't be boring."
Loading Conversation