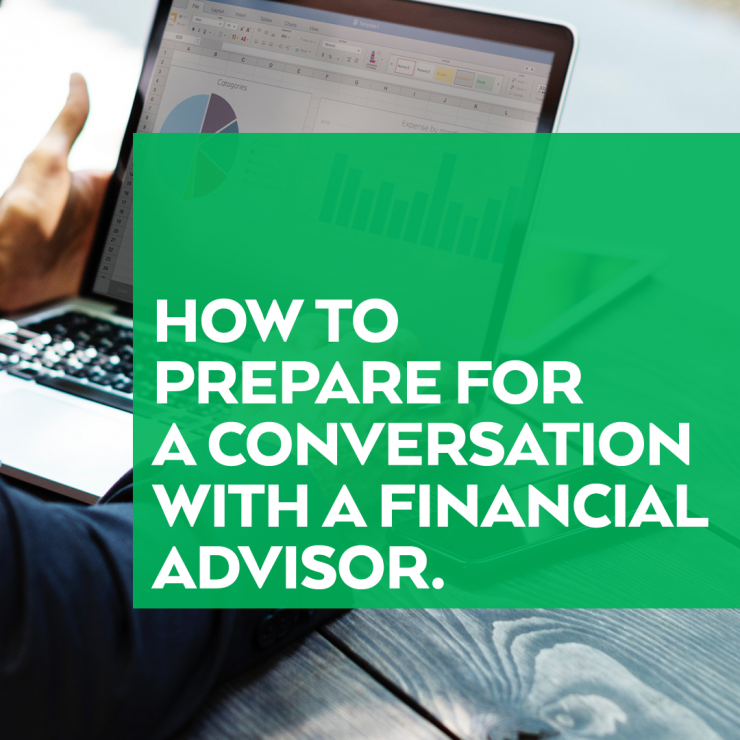 After the great recession in 2008, preparing for a conversation with a financial advisor almost became taboo. There was a loss of trust, and many individuals fell behind even further from their goals than before. Now fast forward to 2018 and conversations with financial advisors still seem a bit taboo as we have become a "do-it-yourself" society where we take on doing our own research for the things that are important to us, like our finances. It will take a lot to establish trust again in this industry because I personally know friends and family that had been burned by brokers in the past. So, how do we approach this? As you become comfortable with the idea of working with a financal advisor again, or for the first time, we want to give you the pre-game steps for approaching a conversation with a financial advisor so that you get the most out of it and keep your financial future safe. Let's take a look.
What's in a Name?
First, let's address what a financial advisor really is. Financial Advisor is a term thrown around so loosely, I'm expecting it to be the new popular baby name next year. All kidding aside, this is a term that may not be what it appears! More often than not, if you find someone with the title "Financial Advisor", they are going to be a broker, which means that they are not legally bound to do what's in the BEST interest of the client. While I am a Financial Advisor, I also work for a Registered Investment Advisor firm, InvestEd. This is important to understand because if your "guy" works for a Merrill Lynch, Morgan Stanley, Northwestern Mutual, Legg Mason, etc., then your "guy" is going to be a broker. What's the difference? The difference is the fiduciary standard. That's what forces actual registered financial advisors to act in the best interest of their clients, unlike brokers or pseudo "financial advisors" that just have to do what's suitable, or "ok" for a client. I cannot stress enough how important it is to understand the difference. I often tell my clients "It's easier to do the right thing when it's impossible to do the wrong thing".
Preliminary Questions
Once you've identified a new potential financial advisor, and made sure that the are a registered investment advisor, you can now begin the actual preparation! Here are some questions I invite you to ask yourselves before sitting down with a financial advisor.
Who am I saving with? Is this a solo venture? Am I saving with a spouse/partner/another individual? If you are saving with someone, make sure you are on the same page with your personal and joint goals.
Why am I saving? What is the purpose of this money? This might be things like retirement, a house, college or even travel. Think big, but be specific so that your advisor has a great starting point.
How long do I want to save for? For this, you want to be realistic. Obviously, retirement could be years/decades away, but if you want a house, how soon do you want it?
Am I willing to sacrifice time for a smoother investment? This is the question people aren't asking themselves enough. If you are resistant to volatility, are you willing to extend the amount of time it takes to get to your goals?
If you can establish the answers to these questions, you will have a good starting point for a meeting with a financial advisor. Some people may say that I left out an important question, how much should a person save? My answer is, as much as possible. It's not critical that you ask yourself this question beforehand, however, because a good financial advisor will be able to determine the specifics with you. You can set up a time to come by the office to meet with me and I'd be more than happy to help work those numbers out with you! (In person, or by Skype/phone if traveling to the city isn't in your list of favorite things to do)
In closing, I want to briefly give you an idea of what I expect from my clients, so you can see things from my points of view. Things I want both parties to understand are:
1. While this is a business relationship, it is just that, a relationship. You should feel comfortable with each other and you should feel comfortable divulging financial information to your financial advisor because transparency will get you the most honest and fitting advice you need.
2. Make sure you understand how you can help each other. Communication is key. Just like in a relationship with a significant other, communication can often be a breakdown of the client-advisor relationship also.
3. Set expectations. Your financial advisor should outline the good and the bad. This goes with potential market volatility, fees, and the downside of being too risky or too conservative and how it can impact your goals. Understanding things up front makes it easier for everyone.
I hope that you find this information helpful and use it as a motivator to schedule a time to meet with the best registered financial advisor that fits your needs and helps you reach your goals. If you're ever interested in a judgment-free and totally complimentary one on one meeting with a financial advisor to talk through your finances, InvestEd is here to help.
Loading Conversation