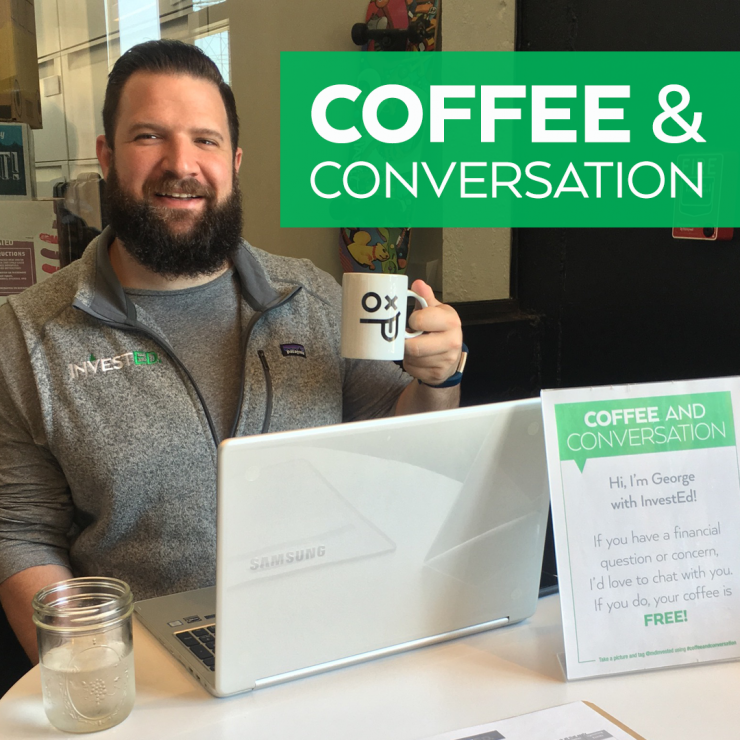 You're thinking about talking with a financial advisor. You feel like you're at a financial crossroads and need some direction on next steps. Or, maybe, you're ready to start investing in your future. Wherever you are in your financial journey, you know it's time to call a professional. But, just the idea of meeting with a financial advisor is intimidating. Talking about finances is scary. And, what if you are judged?
InvestEd has created the Coffee & Conversation series to remove the anxiety and fear around meeting with a financial advisor. We're popping up at your favorite neighborhood coffee shops and buying you the drink of your choice in exchange for a smile. We want to meet you, shake your hand and just let you know that we're here for you for any and all of your financial needs.
To participate in InvestEd's Coffee & Conversation events, you don't have to make an appointment and you're not stuck in a conference room with us for a set amount of time. You can start and end the conversation when you want and you get to choose the topic. You can ask us financial questions, get to know us, or just talk about the weather. If we hit it off, you can schedule a free financial planning meeting, or just keep us in your back pocket for when you need us. Think of the Coffee & Conversation events like a casual taste test of who InvestEd is and what we do.
We have two remaining opportunities during the month of May for you to participate in our Coffee & Conversation.
Friday, May 24th 9am-1pm
Location: OneDo Coffee (Canton)
913 Lakewood Ave, Baltimore, MD 21224
Friday, May 31st 9am-2pm
Location: Ground & Griddled (Located in R. House)
301 W 29th Street, Baltimore, MD 21211
We created the Coffee & Conversation series because we want to meet you where you are. We are a friendly face with a free cup of coffee and absolutely no judgments. Come and see what we're all about!
Do you like sharing your opinion? Let us know what you think about Coffee & Conversation in the comment section below or on our Facebook page @MDinvested. Would you like us to continue this? Are there any other locations we should visit? All information is helpful.
Loading Conversation