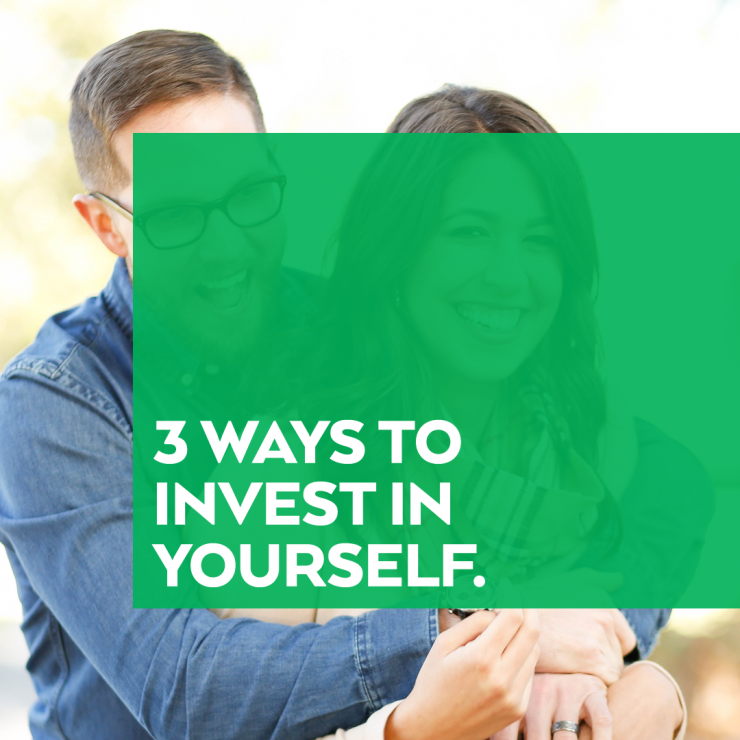 If you know InvestEd, you know we are all about our client's wellbeing. Not only do we advocate for financial health, but a part of our persona is stressing the importance of complete health and how deficits in any area can have negative effects on the others. It is with this thought in mind that we decided to do this blog to remind our community to make sure to take care of themselves. In our presentations, we often reference the phrase "pay yourself first", which implies when you get paid to remember to set aside a portion to go towards your retirement, so that you will be taken care of in the future. To keep your personal well full in the here and now, we have three non-financial ways you can invest in yourself.
1. Take Care of Your Health: This is a no-brainer, but a lot of us let aspects of our health slide when there is a major part of our life that monopolizes our attention. Try your best not to let this happen. Your mental health is just as important as your physical, spiritual, relational and financial health. Treat them as such. Invest in tools and resources that will protect your health. Consult professionals when you feel that an area of your overall health is in a deficit. Talk to a therapist to help you through emotions and life/work stress; consult a nutritionist to help you develop a better eating plan; have regular check-ups to know your body is ok. Have a conversation with a registered financial advisor to get financial advice on your financial situation. Think about getting a life coach to help you work through roadblocks that are keeping you from where you want to be in life. If resources like this are out of reach, do some personal research on daily practices that can help you improve those life areas step by step or talk with objective friends.
2. Educate Yourself: There's always power in learning new things and adding new skill sets to your repertoire. When you invest in yourself through education, it helps you to look at the world in new ways and your capacity to learn more about yourself increases as your thoughts get challenged. As you learn more, your interests can expand leading you to new passions and possibly the path of your ultimate life purpose. Now who wouldn't be happy with that kind of investment if it led to true happiness in their life? You can seek out knowledge through reading, listening to podcasts, attending seminars, workshops and public talks or going back to school and taking classes. "Develop a passion for learning. If you do, you will never cease to grow."- Anthony J. D'Angelo
3. Connect with a Mentor: Another way to invest in yourself is to connect with those around you. Draw from those around you by acquiring mentors for all areas of your life. If there is someone you admire and they're in a place where you'd like to see yourself in a few years, develop a relationship with them to draw from their knowledge base. Everyone has blind spots as it pertains to getting to the next step of their career or life goals. People rarely progress beyond what they know or their circumstance by being around people just like them; you need people who will challenge you to think differently and show you what discomfort you may have to endure to get through a plateau. Be curious, ask questions and be authentic with the people you respect and admire. If you can find a mentor for different areas of your life, do so, because one person may excel in an area that another doesn't. Find a financial mentor, a spiritual mentor, a mentor for your career goals, one for physical health and maybe life in general. It might take awhile to find the right mentor, but once you do, the benefits of them investing their time in you are immeasurable.
On the other side of the token, you can be a person who pours into someone else. Finding an opportunity to mentor someone is a treat. Not only are you helping to shape someone, you feel good knowing you're putting positivity into the world by investing your time in helping someone's growth. Additionally, mentoring gives you a moment to reflect on all you've done when you're the one getting to instill your wisdom in others. Thoughts of inadequacy or feelings of not being where we want to be take a back seat to thoughts of "I am enough" and "What I've done to get to this point is something to be proud of and celebrated".
Take time in the week ahead to assess where you are in life and think of ways you can invest in yourself to get you where you want to be. You have to be your greatest cheerleader and to do that, you have to take care of number one. We all have gaps, but we all have the power to change the things we don't like by doing the legwork to make an honest change and allowing ourselves the time to make it happen. Be the person you want, create the life you seek and most importantly, invest in yourself.
Loading Conversation